ICAI Manipulate CA Results CA Students Get Devistated After the Results and See around 8 to 10% of passing Percentage. Well Actually The Title is ICAI Manipulate CA Results. And that is True . It truly Does.
This is how ICAI Manipulate CA Results
This Student Rahul Gaur Scored 45 Marks in his ISCA Examination May 2023 and ICAI Cut it Down Directly to 32, Don't Know Why.
And  this Student on his Facebook Post Gave the Title ICAI Manipulate CA Results. And It is Right for him to Say that.
[button color="" size="" type="3d" target="" link=""]SEE WHAT HE SAID[/button]
Scored 45 in ISCA… reduce to 32 in May 2023 visited ICAI examination department at Sec 1, Noida …. refused to meet & asked to file an RTI with ICAI
Applied for RTI wherein reply was given as per The Chartered Accountants Regulations, 1988, which states that ICAI at its discretion can revise the marks of students to maintained standards of ICAI.
Appealed against the reply to know the factors to determine the standards of ICAI
During appeals at first appellant to Mrs Seema Gerotria Deputy Director , ICAI. On 29th Sep 2023.
ICAI representative had nothing in writing to support his answer, given on behalf of ICAI.. Just kept on repeating that SC has exempt. . Cannot disclose the facts , as per the ICAI's policies..
[button color="" size="" type="3d" target="" link=""]This is The AnswerSheet[/button]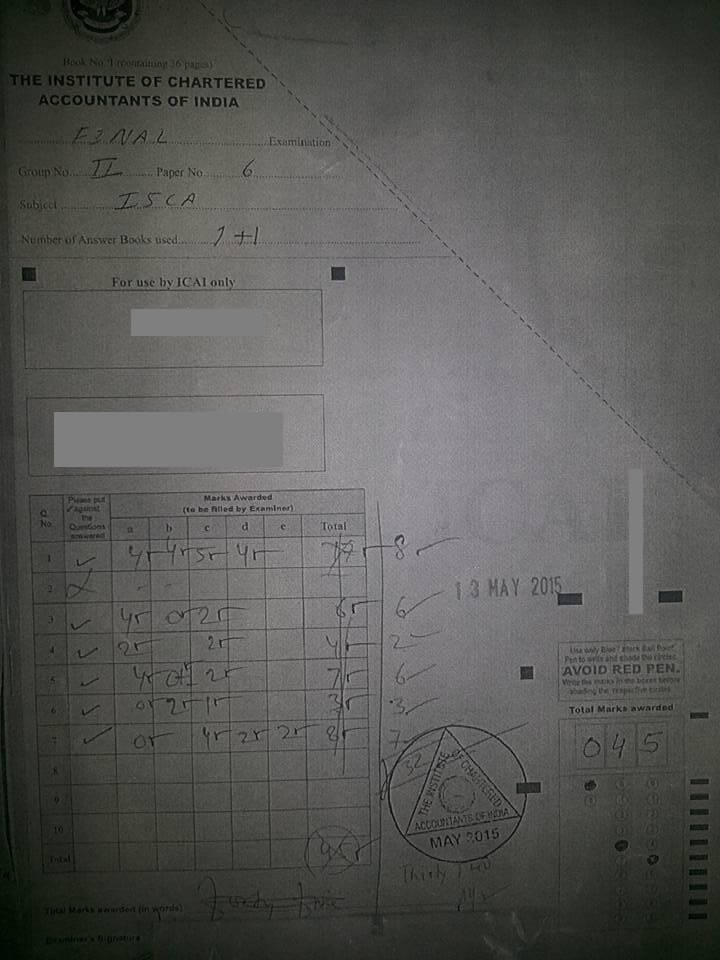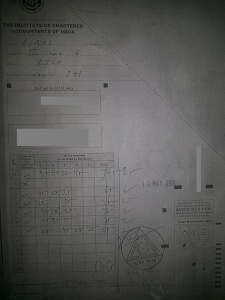 Source : Facebook
One of the interesting fact , I said that suggested answer at icai.org clearly proves that answer were correct but results have been manipulated.
He responded there is disclaimer those are just suggested. Then I said even as per CA modules & practice manual those answers were correct.
He said that examination department has no relevence to Board of studies modules. Our examiners check the answers independently as per policies.
SO which BOOKS Should we study for exams??????
Appellant concluded since these are beyond the RTI Act preview. Further discussion cannot be held. Advised to meet ICAI Secretary or President.
Met ICAI Secretary Mr V. Sagar, who was arrogant, said u need to accept the results no matter even if you are right.
Judgement has given and no revaluation can be done.
Lastly asked me leave the office because, he was busy with CA elections. He was very rude & behaved indecently. So u can understand why ICAI has poor management.
Waiting to Meet the President of ICAI soon ( as he was not available in the office). Mr. Harish his PA said. He will not in available in office till mid of OCT 2023.
Lastly everyone ICAI kept on repeating that focus on exams? When I asked if it happens again then what should do because u don't have re valuations process.
If nothing happens, Please advise me .. what should I do ????
This Was the Post ICAI Manipulate CA Results Which Was shared By Rahul Gaur On His Facebook Profile. What you Guys Have to Say About this Thing ?
Do Comment your Views.
Do Share this Until It Reaches ICAI