Download JKSSB Graduate Level Exam Answer Key 2023 available to download. Check J&K Grad. Level Cutoff Marks for 5.08.2023 online at jkssb.nic.in. Download SET -A, Set B, Set C and SET D Solutions.
J&K Graduate Level Exam Answer Key 2023
the state board of Jammu and Kashmir recruitment examination for graduates in various fields exam took place successfully on 5th August 2023 . aspirants from all over Jammu, Kashmir, Ladakh etc applied for it and going to appear in it on the said specified dates above. basically, we are getting queries from thousands of aspirants regarding JKSSB Graduate Level Answer Key 2023 and its expected cutoff. as we have said before also, we always provide exam solutions with its tentative merit list. so that aspirants could follow up questions and check how many of the question they have attempted are correct and then try to apply this method in calculating their respective marks.
finally, when they get expected examination scores they tend to find a place where they get jammu & kashmir ssb graduate level cutoff marks 2023 . so, here is the page where all such details will be covered for UR-OBC-SC-ST and other specific reservations.
1.Don't read a book 5 times rather, read it only once while writing notes on plain A4 size pages with multiple colors.
2. J&KSSB graduate level syllabus can be completed in 20 days provided you follow a systematic approach.
3. Next important point is what to read.Out of my experience and success in Jammu and Kashmir State Selection Board, I would recommend the following.
jkssb.nic.in 5th August 2023 graduate Level Exam Answer Sheet- Cutoff
Org/Department Name: Jammu & Kashmir Subordinate Service Selection Board (JKSSB).
Name Of the Examination: Graduate level examination (GLE).
Type of the Examination: written competitive paper based on MCQ questions.
Duration of Exam: 2 hours to 3 hours paper.
Syllabus: General Knowledge, Current Affairs, Science, history, Political Science, Geography, English, URDU etc.
Classes Appeared in Examination: graduates from various fields such as BA, B.Sc, BCom, BDS, BBA, BBM, BCA and other various UG Courses from recognized university.
Date of Exam: 5th August 2023 .
Date of Result Announced: Not Released yet.
JKSSB Graduate Level Exam Answer Key 2023
| | | |
| --- | --- | --- |
| S.No | Title | Total Posts |
| 1. | Anantnag. | 113 vacancies. |
| 2. | Bandipora. | 99 vacancies. |
| 3. | Baramulla. | 171 vacancies. |
| 4. | Budgam. | 133 vacancies. |
| 5. | Ganderbal. | 84 vacancies. |
| 6. | Kulgam. | 90 vacancies. |
| 7. | Kupwara. | 112 vacancies. |
| 8. | Pulwama. | 25 vacancies. |
| 9. | Shopian. | 72 vacancies. |
| 10. | Srinagar. | 183 vacancies. |
| 11. | Doda. | 167 vacancies. |
| 12. | Jammu. | 307 vacancies. |
| 13. | Kathua. | 217 vacancies. |
| 14. | Kishtwar. | 133 vacancies. |
| 15. | Poonch. | 98 vacancies. |
| 16. | Rajouri. | 197 vacancies. |
| 17. | Reasi. | 108 vacancies. |
| 18. | Samba. | 81 vacancies. |
| 19. | Udhampur. | 164 vacancies. |
| 20. | Ramban. | 93 vacancies. |

Jammu & Kashmir JKSSB Answer Key 2023
| | |
| --- | --- |
| J&K SSB Graduate Level Exam Set – A Paper Key. | Available Here. |
| JKSSB Grad. Level Paper Set – B Exam Key. | Check Now. |
| J&K SSB Graduate Level Exam Set – C Paper Key. | Available Here. |
| JKSSB Grad. Level Paper Set – D Exam Key. | Check Now. |
S.No
Exam
Subject
Nature
Marks
Duration
1.
Written & objective both.
Urdu
Descriptive
30 marks.
180 minutes.
General English
Multiple choice questions.
20 marks.
General Studies
40 marks.
Constitution of India
20 marks.
Constitution of J&K
10 marks.
General Knowledge (J&K)
25 marks.
Mensuration
15 marks.
Total
160 marks.
Bookmark this page for Further Information Regarding your J&KSSB Graduate Level answer key Updates. Candidates Are Requested to Bookmark by using (CTRL+D) of your Web browser. Candidates must check the details on the admit card and match it with the particulars filled during application. In case of any discrepancy candidates should contact respective district units of JKSSB from Employment and Counselling Centres of the district concerned with copy of confirmation page of application submitted to the JKSSB and details of dispatch all provided by the Jammu and Kashmir Board of Service selection.
JKSSB Graduate Level Cutoff Marks 2023
Basically, they are going to ask questions on constitution of Jammu and Kashmir, constitution of India, General Knowledge, Current Affairs and other recent questions. there are 2 language papers one of Urdu and other one is English. aspirants need to clear all such papers to get into merit list. As all of us know there are most important 6 categories which are going to take part in Jammu and Kashmir examination. as it will start with Other Backward class aspirants with another name as a non-creamy layer. then it comes to Kashmiri migrants, aspirants from Jammu & Kashmir. then Scheduled castes and scheduled tribes comes up. finally, the General Aspirants will have to face highest JKSSB Graduate Level Cutoff Marks 2023 .
Check JKSSB Graduate Level Exam 2023 Cut off Marks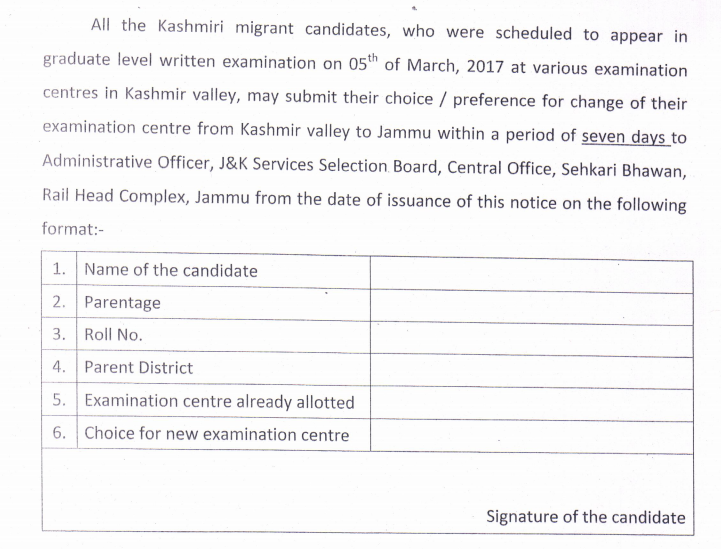 The Administrative Department are required under rules to refer all vacancies in the subordinate services to the Board by 15th January of every year strictly in accordance with SRO 166 of 2005 dated. 14th January 2005, as amended from time to time, for making selection of candidates for appointment to the posts.
Basically, Aspirants are waiting online to note down their respective J&KSSB Graduate Level Exam 2023 Cutoff Marks for the paper which is taking place on 5, August 2023 in complete Jammu and Kashmir state. everyone from India is seeking peaceful paper conduction in the state. Provided that the Government August for any recruitment to be made under rule 9-A, refer the vacancies in one go at any time.
While referring the vacancies to the Board, the Administrative Department shall specify the number of posts for which selection to be made from the reserved categories. Now those don't know yet, it's time to note and revise the most important questions which are going to be asked in J&KSSB Jammu combined graduate paper. Provided that the Appointing Authority August with the prior approval of the Government in the General Administration Department and for sufficient reasons to be recorded make appointment in individual cases or class of cases out side the purview of these rules.
Download JKSSB Answer Key 2023 for Graduate Level Paper
| | |
| --- | --- |
| Recruitment Date: | January 2023 . |
| Exam Date: | 5th August 2023 . |
| Answer Key Status: | Available here. |
| Cut off Marks Details: | Expecte List provided. |
| Result Notice: | Not announced yet. |
Click on the Link Given Below of the portal on which the points are located.
Goto to official Website here online at jkssb.nic.in.
Click on the J&KSSB Graduate Level Answer key/Solutions Corner.
Click on the PDF link to Download The Solutions.
Save the Solution on your Phone/PC.
How to Download process to get official J&K SSB Graduate Level Exam Answer Key has been explained for the examination held on 5th, August 2023 . aspirants those who seek points in suggestions and wants to know whether they will be selected or not shall have to focus on Jammu and Kashmir SSB Graduate Level Exam Cutoff Marks for all such categories which are included while filling up of application forms.
Official Website: jkssb.nic.in