CA Final Student Committed Suicide, Due to torture & Left a Letter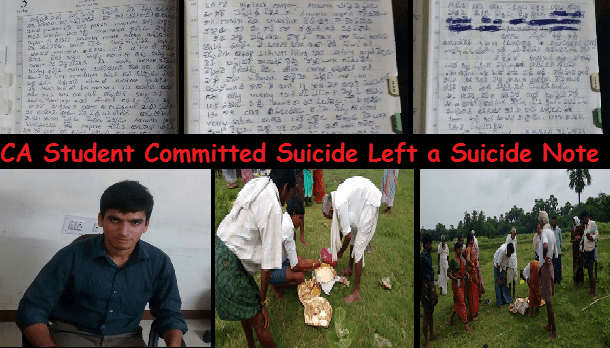 Here is a very sad news for Every CA Student and Professional Because a CA Final Student Committed Suicide Due to So Many Problems. We Found this on some Random Groups and Thought to Share with you Guys.
Please Do Support his Family in Any Way you Can. This is a Really Bad News for Everyone !! Please Read Below for the Complete Information and Photos. And Do Comment What you think about this.
Raise your Voice and Share This | We Need to take a Stand For CA Final Student Committed Suicide
Looking for More Jobs ? Just Find Best Job Suits you here
: https://www.examsleague.co.in/catagory/jobs
SAD NEWS IN CA PROFESSION : CA Final Student Committed Suicide !!
Dear All,
Today I want all of CA students to bring one thing in notice,
Guy name :Veeranjaneyulu Thirumalasetty" CA Final Student ( Cleared his IPCC Both Group In First Attempt)From Narasaaporet ( Andhra)
He was working in Chennai and completed 1.5 years of Training
he committed Suicide, Just Bcoz of His Principal , in His Suicide Note he has clearly mentioned that he used to get torture and slap and also he use to threaten him that he will screw his CA career for everything happen in his office , He wanted to get terminations but auditor didn't allow him to go, he was working full day and also he use to stay in night in office to finish the office work for him, and finally he got fad up with that committed this mistake and finished his life. frown emoticon frown emoticon
i want all of you guys to support his family by way of Justice to his poor family ( those are Farmers) please share and bring this in the notice of ICAI to take Further action against this Principle (RIP TO MY LOVELY FRIEND VEERA )

Here are Some Images Posted on the Facebook of CA Final Student Committed Suicide and Funeral
I am tagging his Suicide diary.

i need full support From all of you !!!!! This is a Very Tragic News " CA Final Student Committed Suicide " Full Support With His Family ! God Help them in this Time.
SHARE IT