Hi Friends in this article, there are so many things combined together for Chartered accountancy students, so that they could clear CA Exams with ease. Well there are best tips and tricks are provided on this page for CA CPT, Inter and Final Students.
To If you want to Pass CA Exam must check the below given suggestions. Well, these Below given points are basically prepared for November and May Attempts. So, For Now Nov 2016 and May 2017 attempt students. Hurry Up ! Check this and Give your suggestions in the Comment box below.
11 Best tips to pass CA Exam In first Attempt
This article is meant for students who are unable to click in their exams yet.
"Never regrets on your failures. Try to find out your mistakes and learn your lesson. Always remember that, behind every successful man there is a lot of unsuccessful years."  
Following are the Helpful tips to pass CA Exam In first Attempt
1. Do not depends wholly on your teacher, make your own concept of study always remember that after passing the exams, Market demands that you should be a great thinker and an innovative person. Remember that almost 95% of student takes tuition in recent year the said ration is about 50 to 60% in early 2000. But you will see that passing % is not improving hence take teacher as your guide who can guide you not as your master who can drive you.
2. Give more stress on understanding learning rather than learning this help you pass ca exam.
CA IPCC & FINAL CHAPTER VISE IMPORTANT TOPICS AND TIPS
3. Believe in yourself remember that nothing is impossible in the world.
CA Jokes September 2015 Series

HOW TO BE MENTALLY PREPARED FOR CA EXAMS
4. Find out your weak subjects and strong subjects make strong to stronger to cover your aggregate and convert weak into strong.
5. Starts early do not wait for last 3 months. We have Seen Students pass CA Exam in 1 or 2 Months preparation (These are Exceptions) But not Everyone.. All of the students we have been noticing who pass ca exam are not extra ordinary but they do continuous Studies from the Beginning the start their coaching classes and most of them do clear.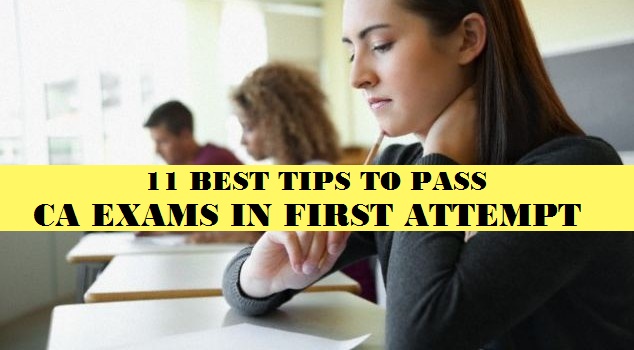 Tips for Average CA Students for cracking CA Exam
6. Do Not Stress much on making time tables and depending on coaching classes for amendments just read the icai Books or the Updated notes from your Teacher, and solve some practical problems and you will understand each and everything and you will definitely pass ca exam.
How to do Revision By CA Parveen Sharma
7. Most of the students do not focus on ICAI Study Material, Practice Manuals and RTP's these are the biggest mistakes students make while preparing for CA Examinations. Guys Do All of these well, because paper comes from these. also do Mock tests.
Recommended By Us
CA IPCC Study Material | CA Final Study Material
CA IPCC Practice Manual | CA Final Practice Manual
CA IPCC RTPS | CA Final RTPS
CA IPCC Mock Tests | CA Final Mock Tests
8. Find out best available books in the market and read them do not just depends on your coaching teacher notes.
9. Solve previous year questions paper as much as u can.
CA IPCC Previous Papers | CA Final Previous Papers
10. Make your own way of study and must be innovative.
11. Do Smart Study Rather learning each and every page of the book. See Whaver is Important Analyse it and do prepare for it well
Hope you like the Helpful tips to pass CA Exam In first Attempt and m sure you all will follow it
Thank you!!
SHARE THIS ARTICLE