PTET Counselling Form 2021 Start  & Last Dates College List 1st 2nd 3rd Round
Rajasthan PTET Counseling 2021-2021, PTET 1st Allotment list 2021, PTET 1st Counselling Result 2021: The MDSU University  Rajasthan PTET – 2021 PTET Counselling College Option Filling for all those candidates who applied, passed and qualified in Rajasthan PTET 2021. The PTET Counselling 2021, PTET 1st Counselling 2021 will be started from June 2021. And PTET College Choice Form will start from 5th July and end till 17th July 2021. The PTET Counselling 2021 College Allotment list release on Date 8th July 2021, Check your Allotted College Name and print your college Seat Allotment letter. You must report in your college between predeceased dates.
 Check below details from more about important dates and important links. Complete Details regarding the Rajasthan PTET 2021 Counseling Online Application Form Start & Last Date and also the Last Date to Pay Counseling Fees details are given below. You can check below the Complete Raj. PTET Counseling Procedure etc in-depth details.
PTET Counselling Frm Date 2021 1st 2nd 3rd Round
Check D.C.B PTET Counselling 2021 Registration Last Date, Fee, College List & Choice Fill, Challan Make, Seat Allotment, Upoward movement & fees refund For B.A B.Ed / B.Sc B.Ed 4 Year Integrated Course. The most popular college Bikaner has been recently published  notification for B.A B.ED Counselling Counselling 2021 on ptet2021.orgAnyhow the Candidates have to En Roll themselves First for being the Part of the Counseling Process. The Time Period sanctioned to enroll for Counseling Starts from1st July 2021 and ends on the 17th July 2021. Once the candidate has Successfully Registered for Counseling; they will be getting Dungar College Bikaner पीटीईटी काउंसलिंग 2021 from the authorities Regarding the Counseling Procedure.
Required Document for PTET Counselling 2021
PTET Result 2021
Counseling Letter
Certificates and Mark sheets
Domicile Certificate
Caste Certificate
Income Certificate
ID Proof (Ration Card, Voter Card, DL, etc
Passport size photograph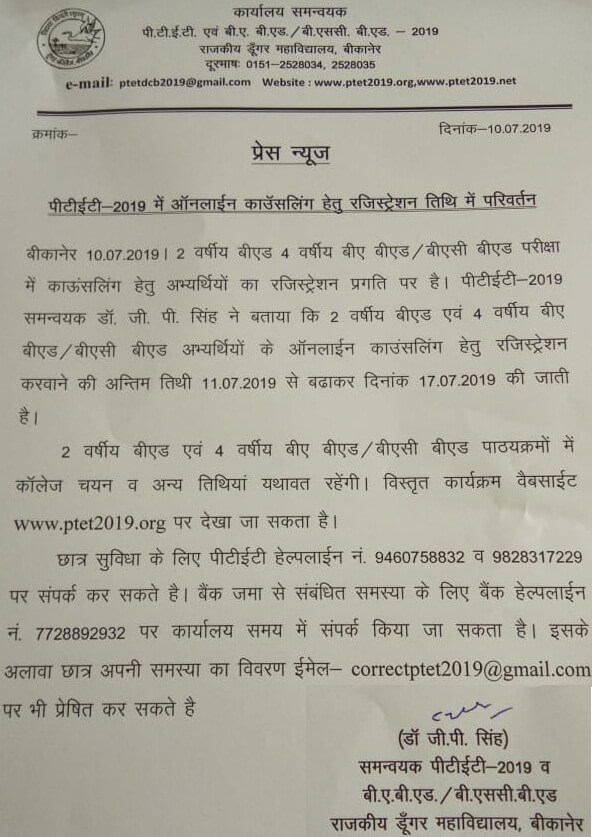 ptet2021.org 1st Counselling Form 2021 Important Date
| | |
| --- | --- |
| nline Counselling Registration & Fees Submission Date | 1st – 11th July 2021 |
| College Opting Form Filling Period | 13th – 19th July 2021 |
| PTET 1st Counseling Merit List Release Date | 21st July 2021 |
| Submission of College Fee | 22nd – 27th of July 2021 |
| Time Period to Report in Colleges | 23rd – 29th July 2021 |
| UP-Word Moment Apply Online from | 24th – 30th July 2021 |
| UP-Word Result Date | 31st July 2021 |
| After UPWord-Movement Result, Reporting in Allotted Colleges from | 1st to 3rd August 2021 |
| Click Here to Apply Form  |    ptet2021.org |
Check Rajasthan Counselling Fess Details
Today highest number candidates are included in the B.Ed 1st counselling allotment and they are given major institutes by Dungar College Bikaner.
the college list and college filling options are being activated from 11:00 am to 11:00 pm , all the candidates are requested to complete their Counselling process before the last date.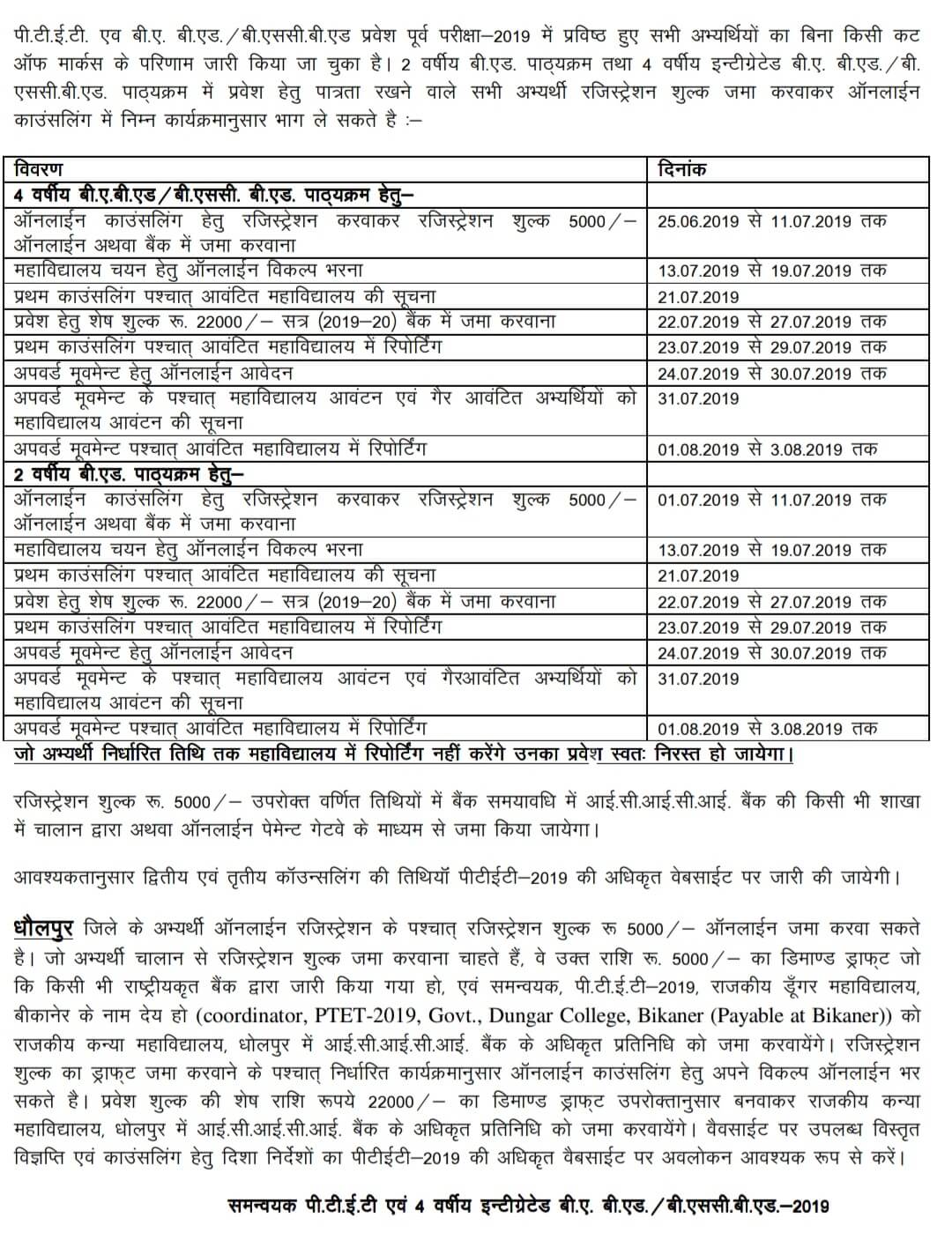 At the initial level; open the official website
Click on the counseling link and log-in using the application ID and password (these details will be available on admit card)
Pay the fees of the counseling and get the receipt of the same
ऑनलाईन काउंसलिंग हेतु रजिस्ट्रेशन करवाकर रजिस्ट्रेशन शुल्क 5000/- ऑनलाईन अथवा बैंक में जमा करवाना
25-06-2021 से 17-07-2021 तक
महाविद्यालय चयन हेतु ऑनलाईन विकल्प भरना 13-07-2021 से 19-07-2021 तक
प्रथम काउंसलिंग पश्चात्आवंटित महाविद्यालय की सूचना 21-07-2021
प्रवेश हेतु शेष शुल्क रू. 22000/- सत्र (2021-20) बैंक में जमा करवाना 22-07-2021 से 27-07-2021 तक
प्रथम काउंसलिंग पश्चात् आवंटित महाविद्यालय में रिपोर्टिंग 23-07-2021 से 29-07-2021 तक
अपवर्ड मूवमेन्ट हेतु ऑनलाईन आवेदन 24-07-2021 से 30-07-2021 तक
अपवर्ड मूवमेन्ट के पश्चात् महाविद्यालय आवंटन एवं गैर आवंटित अभ्यर्थियों को महाविद्यालय आवंटन की सूचना31-07-2021
अपवर्ड मूवमेन्ट पश्चात् आवंटित महाविद्यालय में रिपोर्टिंग 01-08-2021 से 03-08-2021 तक
Refund Policy
If students will not be present while allotment he/she will get Rs.4400 /-, where the deduction amount is Rs.600 from Rs.5000 Counseling Fees.
And if he/she will not be allotted by the college will get Rs.4800 /- amount, where the deduction amount is Rs.200 from Rs.5000/- Counseling Fees.
How to Apply PTET Counselling Form 2021 ptet2021.org?
First of all ope the official website of PTET Rajasthan
Now on the home page select "PTET Counselling 2021"
Now register / login and fill PTET Counseling Registration Form
After upload the upload all details. Singnature & photo
Now click on apply button
Now pay the Counseling Fees 5000 via SBI Challan Mode or Credit / Debit Card / Net Banking
Take print out of PTET Counselling Form 2021
After then wait for the firest Counselling Allotment Result 2021
Thanks for visiting our website. If you ask any question please comment below comment box. Share this article yopur friends and other social networking websites