Open Book Exams For CA's which is going to introduce in 2023 . or CA New Course ? of which ICAI is giving details about ? comment below.
NEW CA Course Will make Entry Tough
All those aspirants who are ready go give their best in chartered accountancy examinations which has 3 levels (CPT, IPCC and Final) conducted by institute of chartered accountants of India, needs to focus more on studies.
As said in a press conference by the President of Institute. The new course which is ready to launch and it will put a missile on the heart of students coz it will be tough enough for an average candidate.
Below image shows best of the conversation between the reporters and ICAI.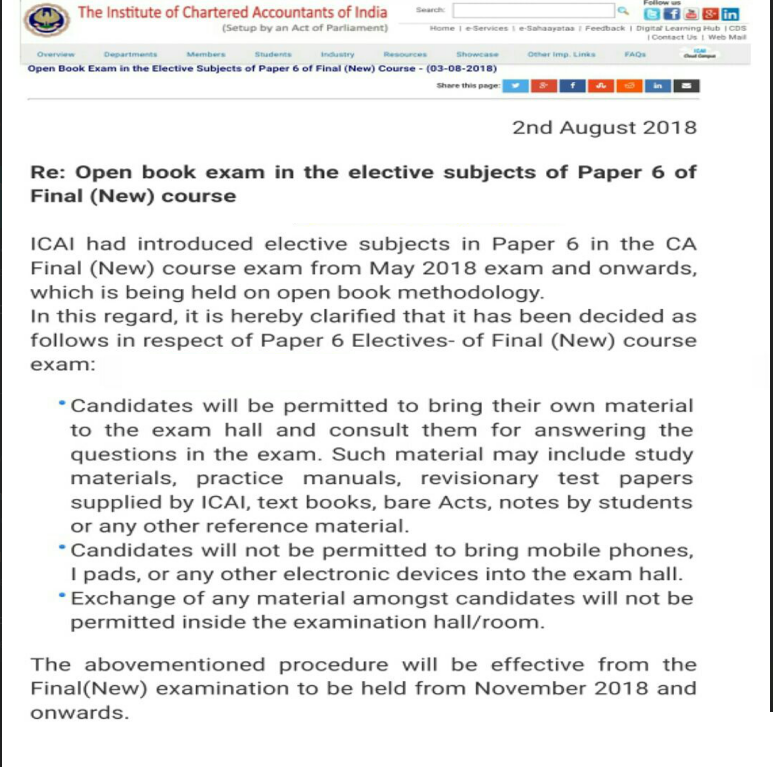 Open Book Exams For CA's to be Introduced in 2018
Students appearing for final exams of Chartered Accountancy will have facility of open book exam from 2023 . The Institute of Chartered Accountants of India(ICAI) which is restructuring the entire curriculum has suggested open book exams for the final year.
"We do not want to test the memory of students but his understanding of the laws", said ICAI president Manoj Fadnis. He said that the draft of the new curriculum had already been put on the board's website and it is likely to be finalized by the year end. The new course will be implemented from 2023.
Fadnis was here in the city to chair the convocation programme of the western region of ICAI where about 350 students clearing CA final were awarded degrees. T V Mohandas Pai was the Chief Guest of the programme. He exhorted students to use modern technology to keep pace with the growing markets.
Fadnis said that students get good placement offers. In campus placement programme June / July 2023 the highest salary for domestic posting was Rs.21.50 lakh and for international is was Rs.30 lakh yearly.
Three more branches of the institute will be set up soon. These include two at Haridwar and Haldwani in Uttarakhand and one in Kalaburgi (Gulbarga) in Karnataska. The total number of branches of ICAI has reached 150.
Murli Pai, chairman of board of studies of ICAI, president of Ahmedabad branch Amrish Patel and others were present on the occasion.
CA OPEN BOOK EXAMINATIONS
CA NEW COURSE DETAILS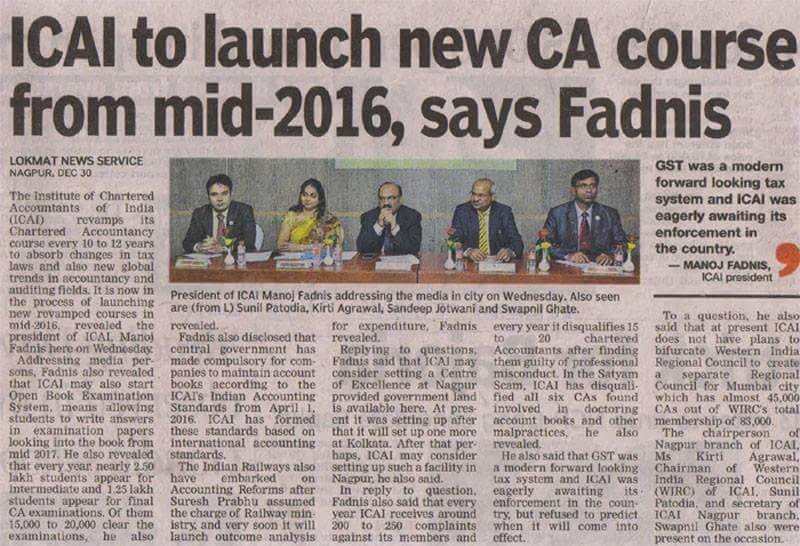 AS SAID :
The Institute of Chartered Accountants of India (ICAI) will introduce open book examination system from 2023 .  This decision was announced at ICAI on Friday. Other initiatives and ICAI's future plans were also discussed at the meeting.
There are three phases in CA examinations-first, second and third phase, which are the final exams. The open book system will be implemented in the third phase. If all goes well, the new syllabi policies will be prepared by the end of 2023 and students appearing for 2023 exams will be under transitional provision, meaning, they can either opt for the existing scheme or the open book scheme. However, the open book system will be made compulsory from 2023 .
The main aim behind introducing the open book system is to minimise rote learning methods and not check the students' memory power.All India president of ICAI, CA Manoj Fadnis, said, "We change the syllabus every 10 years as per industry requirements. Topics relevant to business, trade and commerce will be made part of the syllabus. Right now, we are in talks with industry experts on their needs and expectations from CAs before framing the syllabus." He then added, "We expect a bill on Goods Service and Tax to be passed soon during monsoon.  Since independence, it is the largest tax reform. If passed, we will include it in the syllabus."
ICAI may also include International Financial Reporting Standards in the finals of CA only if the central government gives permission for it. They are also thinking of making a few changes in Common Proficiency Test (CPT) syllabus. According to statistical analysis, 5-10% of the students who clear CPT pass the finals in three years whereas 25-30% pass the finals in three-five years. However, there will not be any changes in the Integrated Professional Competence Course.
QUESTION PAPERS OF PREVIOUS YEARS CA FINAL AND CA IPCC
ALSO CHECK
SHARE SHARE SHARE