ICAI Notification Regarding Extra Questions attempted in CA Examinations Then Required. All the Questions Attempted if even right, must subject to take NA For them. so this habit must be changed.
ICAI Notification : Extra Questions attempted in CA Examinations
All the  Candidates Attempting More Questions then asked would be at loss. the official notification regarding extra questions attempted has been released by the education department and examination dept. itself. The Institute of Chartered Accountants of India have officially released the notification regarding it and now Requests all the candidates who are going to appear soon examinations or in 2023 Exams or further. Must note that Do not attempt any extra question asked.
Suppose there is a option in 1 part that there are 4 questions, and above in heading it is written attempt any 3. Do Not Try and attempt all 4 Because it is unnecessary time waste. Even if you know the correct answer for all the 4 questions but do not try to Answer more than 3. Suppose the Question Asked about there are 2 questions Answer any one of them. Then only answer any one Do not answer Both.Now Go below and Read the official notification given by institute of chartered accountants of india – ICAI Must Share this news with everyone.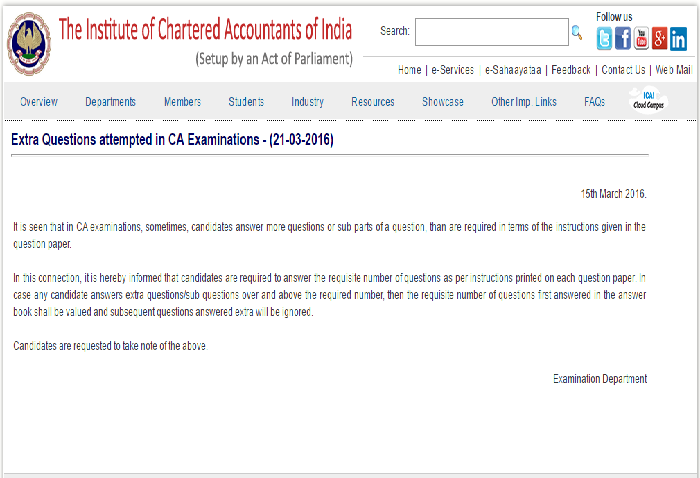 May 2023.
It is seen that in CA examinations, sometimes, candidates answer more questions or sub parts of a question, than are required in terms of the instructions given in the question paper.
In this connection, it is hereby informed that candidates are required to answer the requisite number of questions as per instructions printed on each question paper. In case any candidate answers extra questions/sub questions over and above the required number, then the requisite number of questions first answered in the answer book shall be valued and subsequent questions answered extra will be ignored.
Candidates are requested to take note of the above.
Check Official Notification Regarding it here