Haryana State Rule 134-A class 2 to 8 Admission 2020 for BPL Students
All the students here you can check Haryana State free Admission 134-A Rule schedule. Department of School Education, Haryana has started the online application form date on 28 March 2020 for education to class 2nd & 8th in private schools under Rule 134A. The last date to fill the online application form is 4 April 2020 for free admission in private school. So we are suggested that fill the online application before last date to get free education for 2nd class to 8th class.
Those family who belong to BPL and income is less than 2 Lakhs may enroll their children under Rule 134-A. the Admission test will be held date on 7 April 2020. The Result will be declared date on 11 April 201 to 26 April 2020 respectively. According to this rule you can get free admission primary level class in private school. More details please read given below article carefully.
Schedule for Admission Class 2nd to 8th Under Rule 134-A 2020 RTE Act
Haryana Government, Department of School Education is invites the online application form for free admission in Class 2nd to 8th.Acoording to this rule you can get free education in private schools on vacant seats. Haryana Education department has release the schedule for admission classes 1st to 8th for 2020-20 under the rule 134-A. Candidates the Haryana State Admission Schedule for class 9th to 12th will be release soon while 2nd to 8th class admission process is completed. You can check Advertisement regarding admission in Ovate recognized schools for EWS and BPL category will be published in leading newspapers latest very immediately.
Haryana Rule 134-A Schedule Admission for Class 2nd to 8th Application Form
Students Haryana Education Department  will be connected the admission test  date on 07 April 2020 at various examination centers and result will be declared date on 11 April 2020 online at official server link. Admission on the basis of first draw of lots will be from 15-04-2020 to 19-04-2020. Below on this page you can check Eligibility, important document and process of the scheme of Haryana State Education Rule 134-A Application Form 2020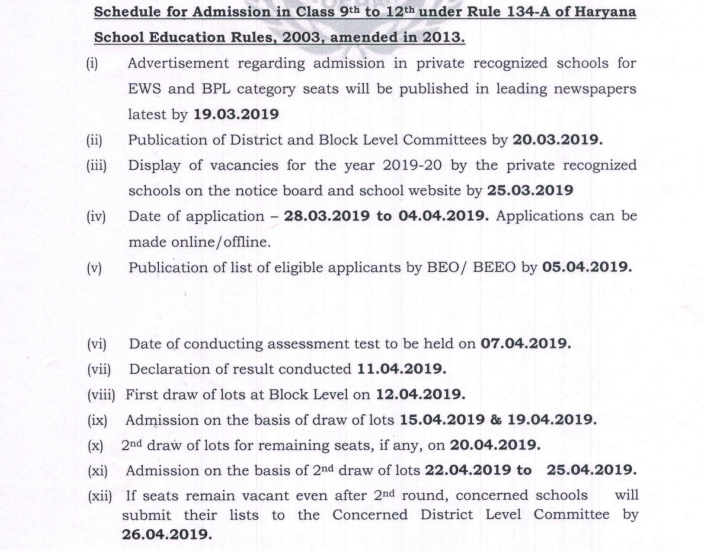 134 A Rule Haryana Free Admission Eligibility Criteria, Download Application Form 2020
Only those candidates apply online application of Haryana State 2nd to 8th Free Admission Scheme 2020 whose Parents' income is less than 2 Lakh Rupees Annual (EWS).
Those candidates who belongs to BPL Family also eligible to fill the online application form Haryana RTE Act 2020.
हरयाणा शिक्षा विभाग ने कक्षा 2nd ओर 8वी मे प्राइवेट शूल मे फ्री शिक्षा के लिए नियम 134ए के तहत आर्थिक रूप से कमजोर एवम् बीपीएल परिवारो के बच्चो के दाखिले के लिए शेड्यूल ओर अप्लिकेशन फॉर्म जारी कर दिए| है डीईओ उमा शर्मा ने बताया की सभी प्राइवेट मान्यता प्राप्त विधयालय मे नये सत्र के लिए प्रवेश के लिए अंतिम तिथि से पहले आवेदन पत्र भरना होगा| तथा 7 अप्रैल को सभी छात्रो टेस्ट होगा | ओर उसके आधार पर वरीयता सूची जारी होगी| इस लिए सभी छात्र 4 अप्रैल से पहले अप्लिकेशन फॉर्म जमा करवा देवे| अधिक जानकारी के लिए इस आर्टिकल को ध्याना से पढ़े| यदि आपको आवेदन पत्र भरने मे कोई समस्या आ रही है| तो आप नीचे दिए गये कॉमेंट बॉक्स मे कॉमेंट कर के पूछ सकते है|
Check Required Document
Birth Certificate
Domicile/Residence of Haryana Certificate
BPL/EWS Certificate
Proof of residence any one of the following in order of priority HID Aadhar Card, Passport, Election Photo Identity Card issued by competent authority in the name of parents/ guardians.
Admission Under Section 134-A Act Session 2020-20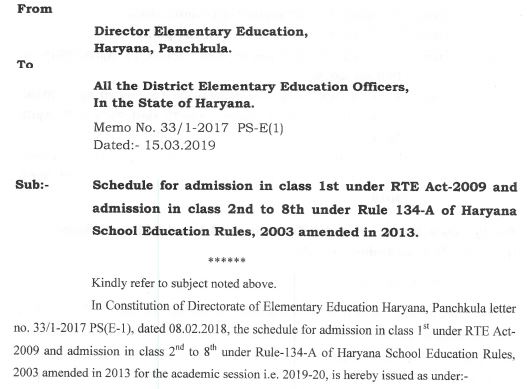 Haryana RTE Act 2020 Admission Class 2 to 8 under Rule 134-A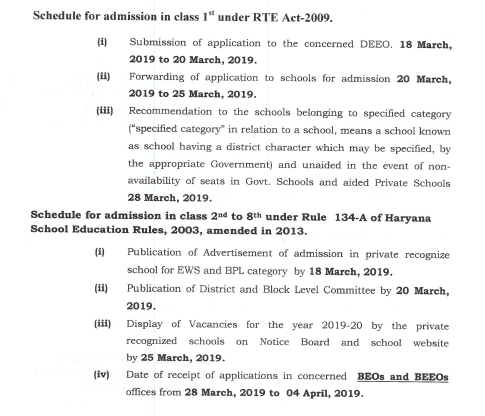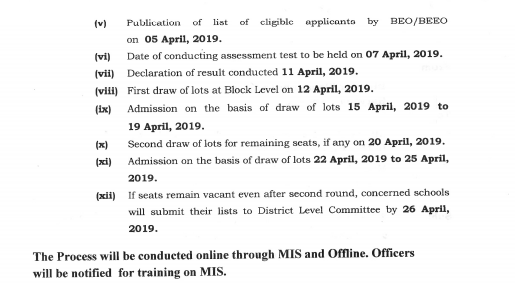 Haryana Rule 134-A Result & Admission for Class 9th to 12 Schedule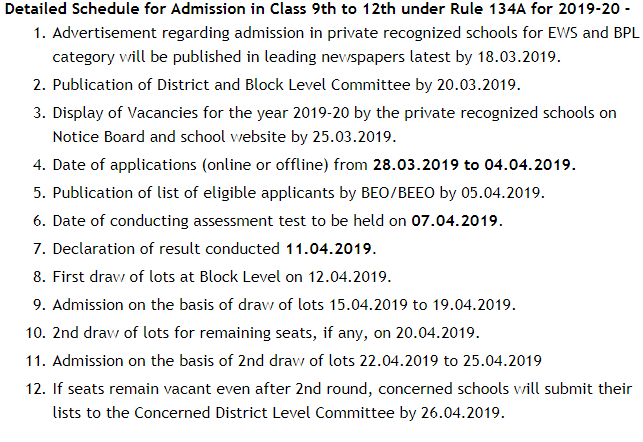 Thanks for visiting our web page Haryana State Rule 134-A Class 2 to 8 Admission 2020, Application form 2020, merit list and results update. if you ask any question please comment on given below comment box. Share this article your friends and other social networking website